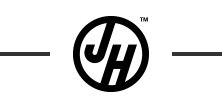 Our operations encompass the North America, Australia and New Zealand. James Hardie® Building Products are also now available in Asia, with a manufacturing plant in the Philippines; in Europe, our operations are headquartered in Amsterdam. In every country in which we operate, our goal is to remain at the forefront of the fiber-cement industry, capitalizing on our global leadership in products, manufacturing and technology for both new home construction and remodeling.
Innovation is vital to maintaining our pre-eminent position in the fiber-cement industry. Consequently, we invest heavily in research and development, with a special emphasis on product quality and production efficiency to develop durable and low maintenance siding products and backerboard.
Corporate Information
James Hardie Industries plc (JHIplc) was created in October 2012, after shareholders voted to accept a unanimous recommendation by the board of James Hardie Industries SE to restructure the company and establish a new parent company (JHIplc) incorporated in Ireland.
The new structure is designed to position the company for further international growth, and generate higher returns for shareholders than were possible under the previous structure. James Hardie Industries plc now heads the James Hardie group of companies, with operations around the world.
The predecessor of these modern companies was established more than 100 years ago, in 1888, when the enterprising young James Hardie left his family´s tannery business in Scotland and immigrated to Melbourne, Australia, in search of new opportunities. Capitalizing on his experience, James started a business, importing oils and animal hide tanning products.
The second major figure in the company´s history, Andrew Reid, was born on January 24, 1867, near Linlithgow in Scotland. He knew James Hardie and maintained contact from Glasgow, where he worked as a shipping clerk. Encouraged by prospects in Australia, Andrew arrived in Melbourne in March 1892 and soon after joined James Hardie´s business, becoming a full partner in 1895. Andrew Reid was outgoing, energetic and visionary, and his talents combined well with Hardie´s sound commercial judgement.
James Hardie retired in 1911 and sold his half of the business to Andrew Reid, whose family led the expanding business from 1911 until 1995, when his grandson John B. Reid retired.
A publicly-owned company, James Hardie Industries Ltd, was listed on the Australian Stock Exchange in 1951. In the following years, the company built up a diverse portfolio of building and industrial products businesses.
In the mid 1980s, James Hardie pioneered the development of fiber-cement technology, and began designing and manufacturing a wide range of fiber-cement building products that made use of the benefits that came from the product´s durability, versatility and strength.
Using the technical and manufacturing expertise it developed in Australia, James Hardie Inc. expanded its operations to become a world-leading, specialized, high-technology manufacturer of a wide range of fiber-cement building materials.
Today, James Hardie Inc. is purely a fiber-cement business. It operates in markets around the world, with manufacturing operations in the North America, Australia, New Zealand and the Philippines. The businesses employ over 2,500 people who generate revenue of more than $1.5 billion a year.