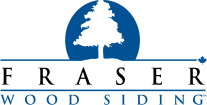 From our plant to your home, quality is everything
Fraser Wood Siding provides its customers with the highest quality, Canadian-made siding and shingles. Our craftsmen bring decades of experience so you can rest assured that your home is protected by the best quality wood and manufacturing. Our products are natural, versatile and highly customizable.
Our siding is made from Canadian softwood, sustainably harvested from 100% PEFC certified forests in British Columbia. We take this high-quality wood and manufacture it with precision so it lasts for decades, giving you a strong and stable wood that will protect your home from the outside in.